Under construction to supply power to the Istanbul New Airport, Turkey's first and only "Energy Center" has the capacity to meet the energy demand of a medium-sized city. The main terminal building will be powered in June.
Construction continues in full gear in the Istanbul New Airport, the world's largest airport built from scratch. At this stage, the installation has set about at the 'Energy Center' that will feed the airport as well as all the structures to be built in the airport city. The Energy Center will have sufficient capacity to meet the entire energy requirement of a medium-sized city such as Sakarya, Samsun, Çanakkale, Nevşehir, or Amasya. In June, the world's largest terminal under one roof will be connected to the transmission line to receive power.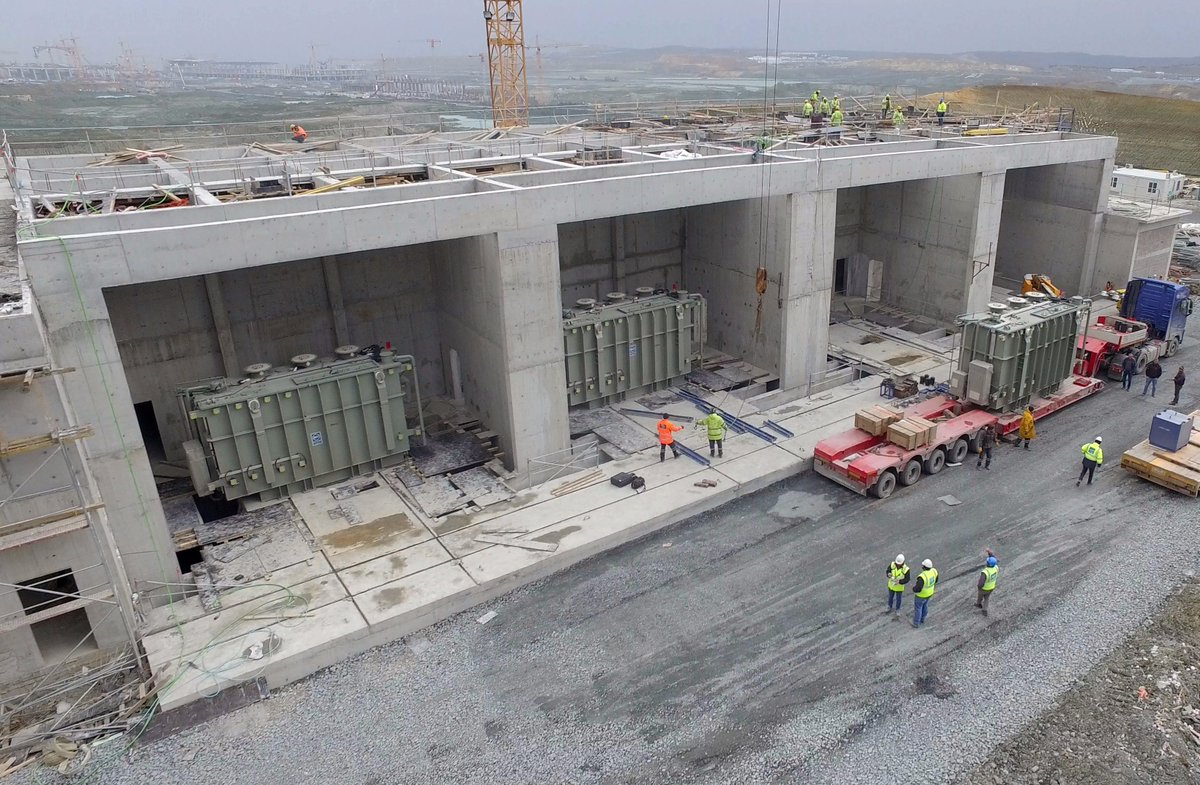 Domestic 'Energy Center' for Turkey's airport
The Energy Center, assembled in Balıkesir specifically for the Istanbul New Airport and fitted out with local equipment only, delivers an infrastructure similar to the energy supply lines used by TEİAŞ (Turkish Electricity Transmission Company) and TEDAŞ (Turkish Electricity Distribution Company) for powering cities. The project will initially put into service 3 energy supply systems that were first used in a private sector undertaking. Once all the phases are finalized, the airport will have 4 energy supply systems and redundancy systems installed.
Describing the construction of the Energy Center as a critical step as regards the project, Yusuf Akçayoğlu, CEO of the İGA Airports Construction, said: "Construction of the Energy Center, which will connect İstanbul New Airport to the world and enable seamless passenger experience, is a project milestone. Upon completion of the Energy Center in June, we are planning on proceeding with permanent supply of power to the main terminal building. Three transformers, each weighing 135 tonnes and featuring a capacity of 154/34.5 KV 100/120 MVA, will provide a total of 360 MVA installed power. The distribution unit will serve through the TEİAŞ-operated national grid. Power requirement of the İstanbul New Airport is 250 MVA, which corresponds to consumption needs of around 60 thousand residences or 180 factories with an installed power of 2 MVA. Accordingly, our Energy Center offers an infrastructure with sufficient capacity to meet the power needs of many cities. We are establishing a system that, once all phases are completed, will be capable to cover the annual consumption of our airport that will boast a passenger capacity of 200 million, and offer flights to over 350 destinations. We are aware of the essential role of power, and are focusing on constructing an airport featuring state-of-the-art technologies, as befits İstanbul."